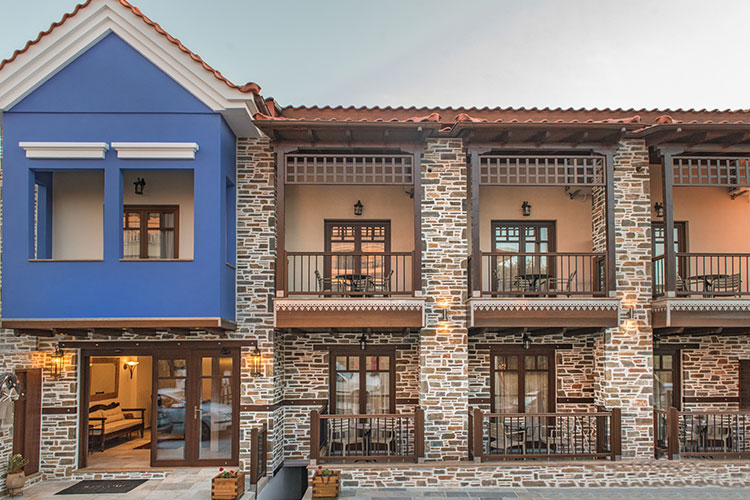 Konaki Hotel in Ouranoupoli is a small, family-friendly hotel. It features a great location, a few minutes by walking away from the nearest beach and the commercial area of the resort. The hotel is modern, with all essential and additional facilities and amenities for a relaxing vacation.
Hotel Konaki consist of rooms and suites that can accommodate from 2 to 5 guests.
Well-designed, cozy and comfortable rooms boast warm ambiance and are up to 16 m² large. Suites are twice as large, with the 35 m² size. Of the former, you can choose among Deluxe Twin, Triple and Double rooms. Available suites are Junior Suites and Duplex Suites.
All accommodation units are airy and well equipped. All of them dispose of air-conditioning and internet access.
Rooms are non-smoking, but the hotel disposes of areas designated for smoking. A pleasant garden with tables and the luggage storage are other welcoming facilities. The staff is friendly and skilled, continually receiving favorable rates from Konaki Hotel's guests. They speak English and provide daily maid service. Another convenience the guests in upper rooms may enjoy is the sea view. Besides the amazing, blue sea, the neighboring Sithonia peninsula, rich in verdant forests, is within the sight.
Hotel Konaki is ideally located in regard to Ouranoupoli's points of interest. The two nearest restaurants are next to the hotel. The nearest supermarket is about a minute away. Beaches are also in the vicinity of the property, accessible in up to several minutes by a relaxing stroll. The most important tourist points of interest are the following:
The Pilgrims Office of Ouranoupoli (there, you can apply for a permit to visit Mount Athos, adult males only) – just around the corner.
The port of Ouranoupoli (regular boat tours and cruises around Mount Athos) – 200 meters, several minutes away.
The Byzantine Tower of Prosfori and the town beach – 200 meters, several minutes.
The nearest beach – 200 meters, a few minutes.
.
Photo Gallery